Resources To Help You
Increase Your Traffic

Grow Your Audience

And Make Money From Your Blog!
Where to start?!?
There are so many things to take care of and think about as you start a blog and work to grow your blog into the successful business you know it can be.
As I was starting out I found a few resources to be especially helpful and I wanted to share them with all my readers who are also bloggers.
FTC DISCLOSURE OF MATERIAL CONNECTION: IN ORDER FOR ME TO MAINTAIN THIS WEBSITE, SOME OF THESE LINKS MAY BE AFFILIATE LINKS. REGARDLESS, I ONLY RECOMMEND PRODUCTS OR SERVICES WE USE PERSONALLY AND/OR BELIEVE WILL ADD VALUE TO READERS
Polishing Your Writing
As bloggers we all have our own style of writing and way we like to communicate with our readers. But no one enjoys reading a blog post with a bunch of grammatical errors. You don't need to be Shakespeare or Hemingway to be a blogger. You can definitely be yourself and it's important to do so! But a little help keeping your writing clear, concise and easy to follow is always appreciated.
Enter your editing and proofreading Virtual Assistant: Grammarly. If you've been relying on the spell checker and grammar checker in Microsoft Word to keep your writing on track, you'll be blown away by what Grammarly can do to help you easily and efficiently write and publish professional, error-free posts! I wrote about it here.
But if you want to check out what they can do for you right from the source, click below. You won't regret it! There's a free version and you can upgrade to Grammarly Premium as well!
Getting Traffic
Traffic is such a huge issue, right? I mean you can write all the awesome content in the world in your blog posts, but if no one is seeing it what good does it do?
When I talk to almost any other blogger, getting traffic is one of the key things that they are focused on and with good reason! You have to get eyes on your content.
Pinterest Marketing Help!
Pinterest is a super way to get more traffic and more readers to your blog. But it's hard to know what to pin and when and how to get blog readers to re-pin or save your content — the list goes on and on.
Tailwind to the rescue!   Tailwind makes promoting your blog and business on Pinterest and Instagram so much easier! It has saved me SO much time in scheduling pins and making sure that I'm consistently pinning my best content to my best boards without it taking hours and hours to do so. They even tell me the best times of day to share my content to reach my readers. It's awesome! Plus, they are Pinterest approved!  Click here to learn more!
If Pinterest is one of your main ways of getting traffic to your website, as it is mine, Tasty Pins is a neat little plug-in for Word Press that helps ensure you get the right image (and right description to go with it) pinned from your site by your readers EVERY TIME! That way you can have good Google SEO and good Pinterest SEO, and if you don't know what that all means, don't worry. The helpful people at Tasty Pins can explain everything.  Click here to learn more!
Making Pins that Get Clicks & Saves!
Having an eye-catching image is absolutely KEY to getting viewers to click through to your blog or website. I've tried Adobe Photoshop and some other graphics programs and they just seem so cumbersome and clunky. When I'm trying to get a blog post up and need to make Pinterest pins and Facebook images to promote it – I don't know about you, but I want to get it done as quickly and efficiently as possible while still coming up with dynamite images.
Enter Picmonkey! I have had so much fun with this super easy to use program. I can't recommend it enough! The free program works well, and the premium program, which is pretty reasonable to get, totally rocks! So check it out if you'd like a faster, easier way to create awesome graphics for your blog, Pinterest, Facebook, Instagram, even holiday greeting cards!
Expert Pinterest Marketing Advice
If you're looking for expert Pinterest marketing advice on a particular topic, or even just on how to get started with Pinterest, I totally recommend Kate Ahl over at Simple Pin Media. You can find her blog and awesome podcast at simplepinmedia.com.  Her weekly podcast is full of great information on how to use Pinterest to grow your business and the podcast is totally free!
Great Books on Blogging & Growing a Successful Business
There are a few helpful books on blogging and growing your business that I recommend.
One book you may well have heard of is Ruth Soukup's How to Blog for Profit Without Selling Your Soul. It's a great read and can help you get started blogging or get your spark back if things are seeming like a struggle at the moment. Just click the image to grab the book through Amazon. It's very reasonably priced and if you have Kindle unlimited it may even be free!
If you aren't sure what your niche is or what kinds of products or services you might be able to offer in conjunction with your blog, check out Dorie Clark's book. It offers some great tips on how to develop your niche, build your network and grow your audience. It can be really helpful if you haven't quite found your direction yet or if you need to pivot a little bit.
So you know that there are bloggers out there making a BUNCH of money, right? But you're feeling stuck with little or no profit yet for your blog? Yep, I've totally been there. Sally Miller has done some detailed research into blogs and bloggers and in this book she shares habits and tips from 17 successful 6-figure bloggers. It's an inspiring read that is practical, too!
The 4 Hour Work Week is almost a classic now, for people who are tired of the 9:00-5:00 (or longer), 5 days a week (or more), for 40 years (or more), working for someone else grind. What I find really helpful about this book is that it looks at the possibilities of doing things differently. It also talks a lot about "outsourcing" which may be more practical and affordable than you think. If you aren't familiar with Tim Ferris' work you might like to check it out. The paperback is reasonably priced new, and if you don't mind a used copy it could be even less.
Are things feeling totally overwhelming?
If you feel overworked and underpaid and things just seem TOO overwhelming between trying to balance your home-life, work-life, starting a business and all the other things we generally try to manage every day, then I have 2 recommendations.
The first is Dale Carnegie's classic How to Stop Worrying and Start Living. If you tend to be a worrier, like I do, then I can't recommend this book enough. Whether you are worried about your business or your health, or your finances, or a family member, or you name it, this book can help! There's a reason it's a classic and has been helping people since 1948. And, no, that's not a typo. It really was written in 1948 and is still incredibly helpful today.
The second recommendation can help you plan out and organize your days so that the daily balancing act you're trying to accomplish doesn't seem so much like trying to juggle flaming chainsaws in a circus.
Get a good paper planner and use it to help you manage your balancing act. I know there are a lot of apps for your phone, but if life is feeling overwhelming they try using paper to help you sort things out.
Erin Condron is one of my favorite planner designers. Her products are gorgeous and customizable so that you get not only beautiful covers and pages, but a planning format that will REALLY work with your life. You can check those out here: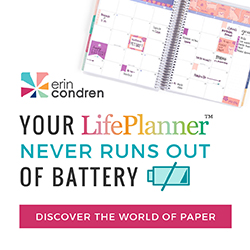 If you prefer an undated planner that also has space for "mind maps" and "vision boards" then you might find the Simple Elephant planner really helpful. It allows you to be creative while keeping track of "ALL THE THINGS" that we have going on in our lives.
Whew!
So those are some of my top recommendations for growing a successful blog and business. I'll share more of the resources I've found to be helpful in the coming weeks. So check back and GOOD LUCK with your blog and your business! I know if you stick with it you will find success!
Let's be friends! Follow me on: